It's now April 1, I'm back in Sweden, and, rather than trying to fool you, I'll tell you the story of my trip to the US. If you have read the previous post, you will know that I recently submitted my PhD thesis. While this does indeed create quite a sense of accomplishment, there are two remaining hurdles to be overcome at that point when doing a doctorate in the US. The first is the doctoral defense, and the second is the revisions to the thesis. A certain amount of suspense derives from the fact that you don't know much about the extent of the revisions until you get to the defense.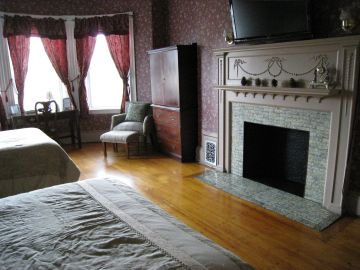 The bed and breakfast
When you live in Stockholm but have to defend your thesis in Boston, there are a few extra practical issues to deal with. When two of your committee members are in England and the American Southwest, there are several more. I had the good fortune that one of these committee members happened to be in Boston for a conference last week, so we scheduled the defense around his visit. However, we then needed to have a video-conferencing link with Liverpool to include my reader in England. As you might imagine, there are several ways in which a video conference can fail to work, so we had to have a backup plan, which involved a "proxy"—someone who could ask Michael's questions for him should the video link break down.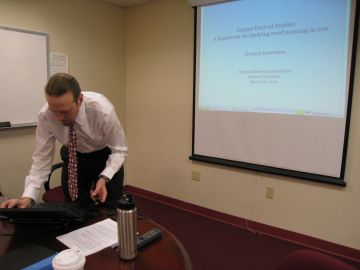 Setting up for the presentation
I was also lucky in that my first reader, who had to give a big talk that afternoon, had the morning free—making a call to England feasible—and that my committee chair, who commutes from Germany, was in fact in Boston at that time. Oh, and I might add that this was the one week of the spring when the time difference between the US and the UK is only four hours, and not five, due to the US getting all eager about extending Daylight Saving Time (what we call "summer time" over here, much more mellifluously). So we had to be on top of that, too.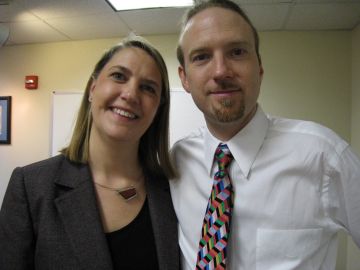 Shanley congratulates the new doctor
And so, with all of these details dancing around in my head, I went to Arlanda airport with Annelie last Tuesday to catch a flight to Boston, via Reykjavik. When we got to the ticket counter, we learned that the flight had been delayed—only by an hour, but I was on the alert for bad omens. We asked why the flight was delayed. "Volcanic eruption in Iceland", came the answer. Volcanoes! Talk about bad omens! But, being essentially a rationalist, I told myself everything was fine and settled down to wait with a book about zombies.
The flights to Reykjavik and to Boston were both delayed but went fine, and we made it to Boston a few hours late. My wonderful mother was there to pick us up and take us to the family home in the country, which was great but meant that we ended up being awake for nearly 24 hours. Exhaustion is not necessarily the best state in which to confront an oral defense.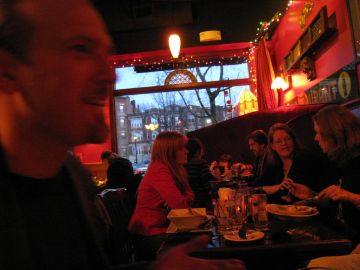 At the party
The next two days were taken up by practical preparations, such as printing out my thesis and presenting it to M. Khan, the gatekeeper at Boston University who checks the formatting of each thesis in the Graduate School of Arts and Sciences. She is feared by all PhD students as something of a mix of Charon and Cerberus, but in actual fact, I found her quite pleasant. Her job is essentially to make sure that all theses at BU look like they were printed in the 1980s, back when bold type was the big new thing. This is primarily to ensure that the microfilming of the thesis will work properly. Yes, they still microfilm theses in the US, folks. Anyone who tells you that the United States is a technologically advanced country is telling you only part of the story.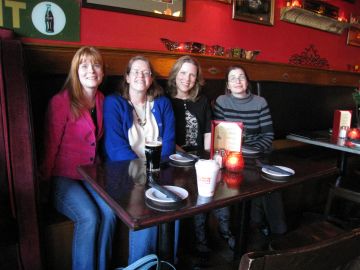 Some BU friends
Annelie and I stayed in a bed and breakfast in a charming old brownstone in our old neighborhood the night before the defense. We could have stayed with friends, but I didn't want to disturb them by getting up at 5 am, which is in fact what I did. The day before the defense had been beautiful, sunny, and warm—around 60° F (15° C)— but on the morning of the defense, it was freezing cold and snowing like crazy. Not wanting to be overly influenced by bad omens, I told myself "Of course, this is the day that Hell freezes over." It seemed a fitting enough end to my graduate school career, which began during the Taft administration.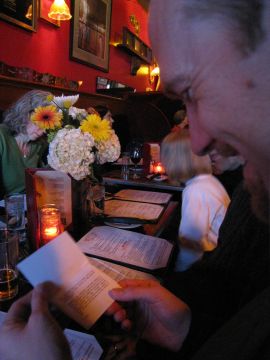 Reading notes from friends
So it was a dark and stormy morning. After a couple of hours practicing my presentation in the dim and creaky depths of the inn, I breakfasted at a fine local establishment (Dunkin Donuts) and made my way through the wet, driving snow to the university.
The basic format of an American doctoral defense is extremely simple: The defendant describes the thesis in an impossibly short presentation, and then the committee members ask questions, which the defendant attempts to answer without passing out. If there is enough time, members of the audience are allowed to ask questions. In my case, there was not enough time. First, my presentation was, ahem, a bit longer than it was officially supposed to be. And then, the questions from the committee members lasted about eight hours. Or at least that's how it seemed. In fact, a number of good questions were asked, and I am told that I answered well. Miraculously, the video link worked without any problems.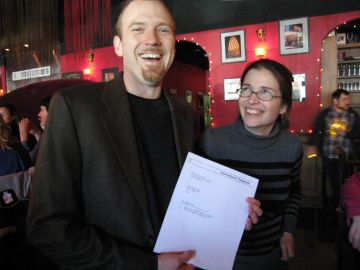 An actual telegram from Sweden!
In any case, after about two hours, everyone but the committee members was asked to leave the room (a defense is typically a much smaller affair in the US than in Europe), and while my friends all went down to add more money to their parking meters, I stood out in the hall wondering why the discussion inside was taking such a long time.
Finally, we were invited back in, I was told "Congratulations, Dr. Garretson", and a bottle of champagne was opened (yes, it was only 11 a.m., but this is a strict requirement at BU). I was then handed a list of requested revisions that seemed dauntingly long. Clearly, this is what they had been working on all that time. In fact, the revisions are not all that bad, but since I only have a couple of weeks to do them, I will be a busy fellow in the immediate future.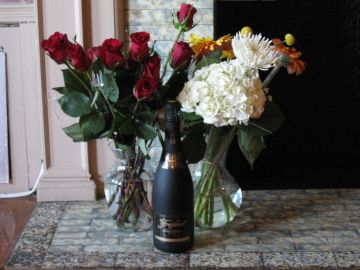 Flowers and champagne
In a way, a doctoral defense is nothing more than a presentation—like a conference talk—in which the proportions are reversed between the presentation and the question period. The differences are that (a) the audience can actually be expected to be familiar with your work, and (b) it really matters how you answer the questions. I had figured this out beforehand, so I was not too nervous going into the event. To my surprise, however, it was really quite stressful, in part because I was nervous about my presentation (I knew it would go over time), and in part because the questioning got rather intense. I was, quite literally, asked to defend my work—not only the thesis project but my entire approach to linguistics—and while I was able to do so, it was an exhausting experience. In a way, I'm glad it was, though. Any event that marks a major change in your life should be a significant experience.
After everything was over, I went back to the bed and breakfast and collapsed. I probably could have slept for the rest of the day, but I had promised to have lunch with my family. Then I had to send off an urgent package to get the signature of my reader in England (another crucial practical detail), and then it was time for the party.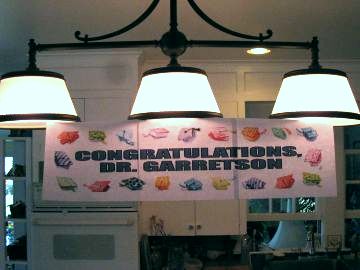 Congratulations from the family
My parents and some friends had helped to organize the party celebrating my success. This was wonderful, since in the end I hardly had to do anything but show up at the tavern where it had been arranged. And there were all my friends! I don't think I really expressed at the time how much it meant to me to see so many old friends: people from BU, people I used to work with, people I used to live with, people from my old gun-running days (just kidding), and family. It was great to see so many old friends, and I was very moved. Of course, I am lucky enough to have many other friends in other places around the globe, and I hope I will get to celebrate with some of them, too. But it was eminently fitting to see all my old Boston people at the close of my BU career. I hope I will get to see them again before too long.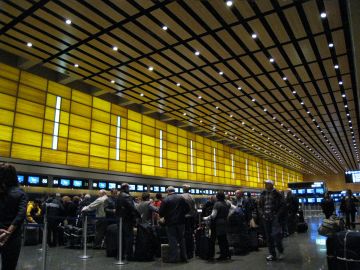 Leaving from Logan
There followed a few days of visiting family and helping out with various projects, and then it was time to go back to Logan. We flew overnight to Reykjavik, with me reading my zombie book the whole time—an uncharacteristic choice for me, true, but somehow perfectly fitting reading when you miss a night's sleep. We flew over Iceland on a beautifully sunny day, and went right past the smoldering volcano. I waved as we passed, realizing that it's hard to tell good omens from bad ones.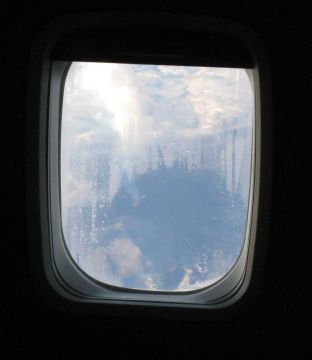 Flying past the volcano
Posted by: Gregory
Categories: