So now the end of the year has come already, and I have not written anything here for almost two months. Forgive me, those of you who have stopped by hoping for news of my doings, strange facts about Swedish holidays, or simply a respite from all those websites that impart useful information.
I reported over two months ago that I'm not writing much here because I'm hard at work on my dissertation. Well, both of those things are still true, and it looks like it will be that way for quite a while yet. It's going pretty well, but I won't talk about that now. Instead, I'll talk about my first December spent entirely in Sweden, which is about to end.
I feel very much like I'm peering over the edge of things right now. For one thing, we're on the verge of 2009, a new year, arguably not any different from any other new year, but there are several ways in which this is no ordinary new year. In three weeks, we Americans will have a new president, a Democratic president. And not just any new president—we will, for the first time ever, have a black president (African-American if you insist, though in a sense he's more African than African-American, and more Anglo-American than African). And not just that either—for the first time in many years, we will have a president who is an unashamed intellectual—someone who is unafraid to speak without a down-home southern accent and unafraid to present complex issues as complex issues. In other words, we have actually hired someone for the job who seems qualified! Can you believe it?
Of course, we are also peering over the edge of a depression, maybe not Great, but almost certainly Lousy. Things are expected to get worse before they get better in the US, and they have only just started getting bad over here in Europe. The future is looking quite uncertain, especially for those of us who will be on the job market soon.
Speaking of which, I've been travelling for so long through this strange, dry, scrubby country called Graduate School that I had forgotten it was a plateau, and I'm now coming close enough to the far edge to see the lands stretching off down below… Maybe it's not any better than up here, but at least there are signs of civilization down there, maybe even a motel with a Jacuzzi and a mini-bar.
And in the purely geographical sense, spending the entire winter here in Sweden gives me the distinct feeling of peering down over the Earth from waaaay up here, so far north that the sun hardly makes it up into the sky, and only for a few hours each day. While that might sound terribly depressing—and while I will admit to suffering occasional attacks of a sort of darkness-induced claustrophobia—it is truly very beautiful here in winter. One of the advantages of being in the northern half of Sweden is that it snows quite a bit, rather than raining, or just being gray, which means not only that we enjoy the beauty of snow falling on spruces, but also the luminous glow of the weak winter light reflecting off the snow.
Light is, without doubt, one of the most interesting things about Sweden. The difference between the light in the summer and the light in the winter is like the difference between the sand in the Sahara and the water in the Sahara. The first is everywhere all of the time, and gets into everything; the second appears only infrequently, in oases of miraculous beauty. The sunsets here in the winter are breathtaking. And they come breathtakingly early. Where else do you hear people say, as Annelie and I have been doing lately, "The sun is setting—it's time for lunch!" (OK, the answer to that is Berlin, but that was very different, and many years ago…)
I will end with a photo essay on the shortest day of the year. I took these on December 21, when the sun rose at a quarter past nine and set at a quarter past two. This means that in theory, we had about five hours of direct sun, and about seven hours of light. In reality, where we spent the day (at a friend's house in the country outside of Härnösand), the sun appeared above the nearby hill after ten, and disappeared again around two, making for about four hours of real sun.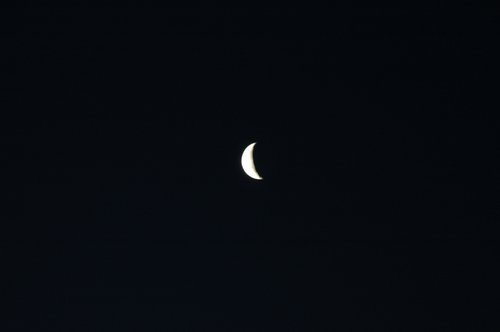 At 8 AM, no sign of daylight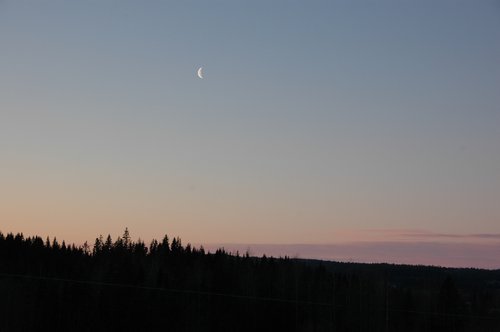 At 9 AM, just before sunrise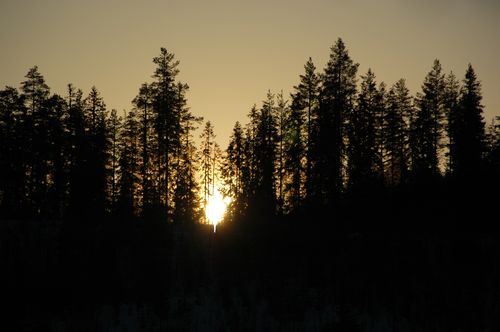 At 10:15, the sun first peers over the hill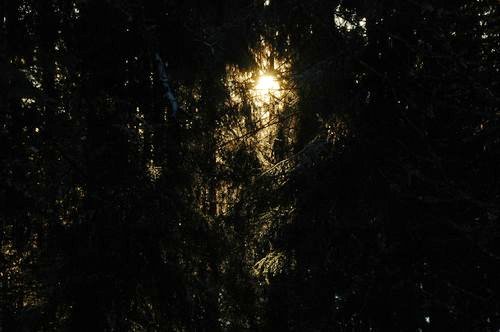 At 11:15, the sun peeks through the spruce forest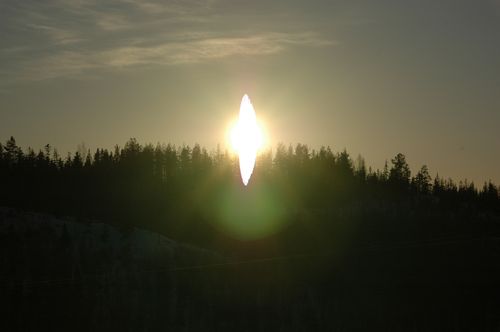 At solar noon, the sun, now at its zenith, tries to destroy my camera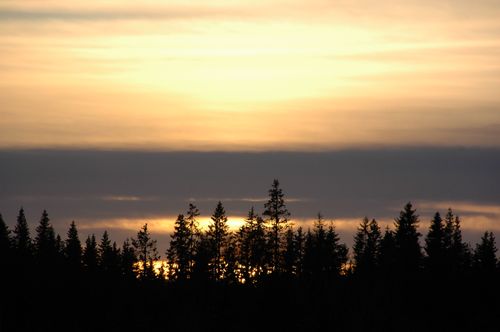 At 1:45, the sun sinks below the hill again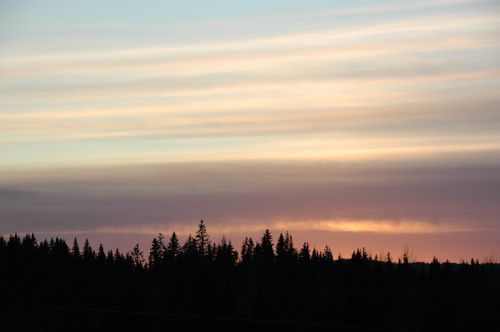 At 2 PM, the sun has set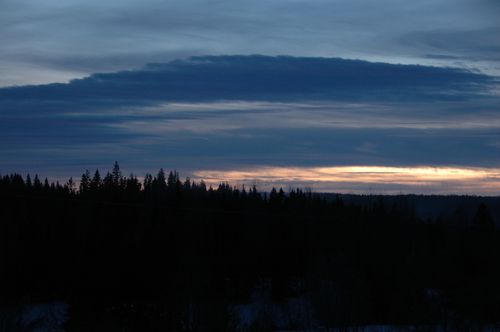 At 3:15, the last light fades
So that was the shortest day of the year. I hope you enjoyed it. From now on, we watch as the hourglass is slowly filled with sand. A happy new year to you all!
Posted by: Gregory
Categories: